It is an open window to both the intimacy of a newly married couple and love relationships. Everything happens inside a boxing ring, surrounded by the audience.
The actors cannot protect themselves, and the audience will not be able to hide… Sometimes windows turn into mirrors.

This performance was created during an artistic residence as part of IKARUS STAGE ARTS in Nordisk Teaterlaboratorium – Odin Teatret in Holstebro, Denmark. July – September 2017 / July – October 2018.
TECHNICAL SHEET
Direction: Carolina Pizarro and Luis Alonso (Odin Teatret)
Dramaturgy: César Brie
Adaptation: Festum Teatro
Acting: Yessica Alvarado and John Velasco
Première: 4th of October of 2018
Co-production: IKARUS STAGE ARTS / NORDISK TEATERLABORATORIUM/ FESTUM TEATRO.
Special thanks to Sirley Martínez.
ACTORS
Yessica Alvarado and John Velasco. Actors of the faculty of Arts of the District University of Bogotá. They gave theatre introduction workshops to children, youngsters and adults in vulnerable conditions in cities like Bogotá, Quito and Holstebro.
Active members of Ikarus Stage Arts since its beginning in 2017. This is where they developed the staging of their performance "Te duele?" and participated in the various group activities belonging to the project.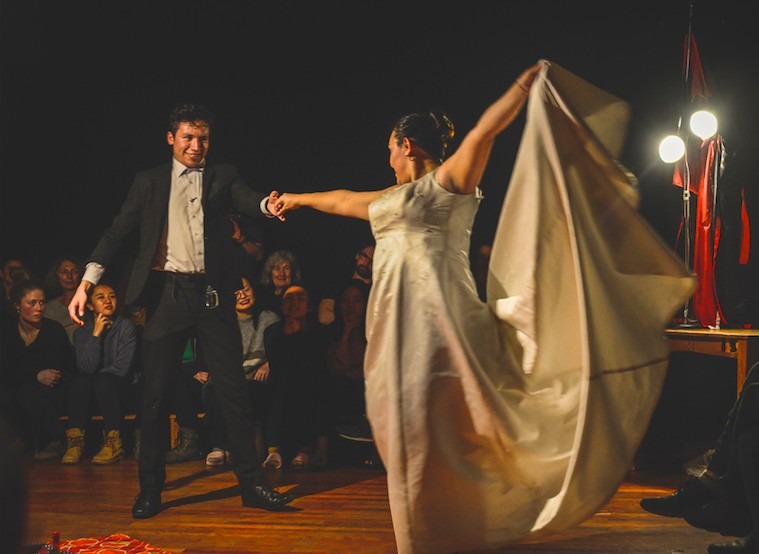 STAGE DIRECTORS
Graduated actors, Licensed in Arts with mention in Theatrical Acting in the University of Chile.
Founders of Ikarus Stage Arts in 2017 in Holstebro, Denmark.
Actors of the Odin Teatret since 2016 under the direction of Eugenio Barba.
Sala de Teatro Freddy Ginebra Giudicelli de Etnias Global. 1005 Main St. Pawtucket, Rhode Island. 
Clemente Soto Vélez , Cultural & educational Center, 107 Suffolk St. NY10002.107 Suffolk St, New York, NY 10002 info: (212) 260-4080. 
Corporación Colombiana de teatro, sala Seki Sano. Calle 12 # 2-65 info: +57 (1) 3429621.